Add watermark to videos online for free
Add your logo to any video, no account required!
Add any image to a video
Add any image and watermark to any video and ensure your brand is always attributed. Prevent anyone from using your video without your permission by adding a watermark to the video.
Oh, and it's completely free!
Choose your video
Upload your video in any format: MP4, WAV, MOV, AVI, WebM and many more.
Add your watermark
Place your watermark wherever you need, drag it around or even animate it until it looks just right.
Export for free
Download your video for free, optimized for all social media platforms including Instagram, Facebook, YouTube, and TikTok!
Edit any video from your phone
Designed to run on both Android and iOS devices, add your logo in seconds without downloading an app.
Add a watermark to your video for YouTube
Any video you make with CreatorKit is entirely yours. Once you're done with it we'll remove any assets from our servers.
Add your brand to your Instagram videos
Use your logo to enhance brand communication on Instagram, or just about any other social media network you need.
Platform features
CreatorKit is the best video editor tool to create engaging social media content. At least that's what we believe! No registration is required to use any of our simple tools, like our watermark tool. No video editing experience is required, and you'll become a pro in no time.
Branded videos
Add any image or photo on top of your video, in minutes. Plain and simple.
100% online
No need to download an app or browser extension. Designed to be used on any device.
Add image and watermarks to video
Have an asset with a watermark of its own that you don't want? Simply add your own logo on top.
Add watermarks to videos of any type
Works with MP4, MOV, AVI, WebM and the list goes on!
Secure processing
Your data is protected with industry-standard security measures. We delete videos after processing them.
Without extra watermarks
We won't clutter up your video with any of our branding. Your video is entirely yours.
Add your logo to any video
We built CreatorKit to be powerful yet easy to use. Adding a watermark to a video should never be complicated.
Want to see how? Check out our tutorial:
Why choose CreatorKit?
CreatorKit is a video platform designed for anyone who wants to create high-converting videos. Some of the features that make us different include:
Animated Text Styles
Hundreds of Video Templates
Smooth Video Transitions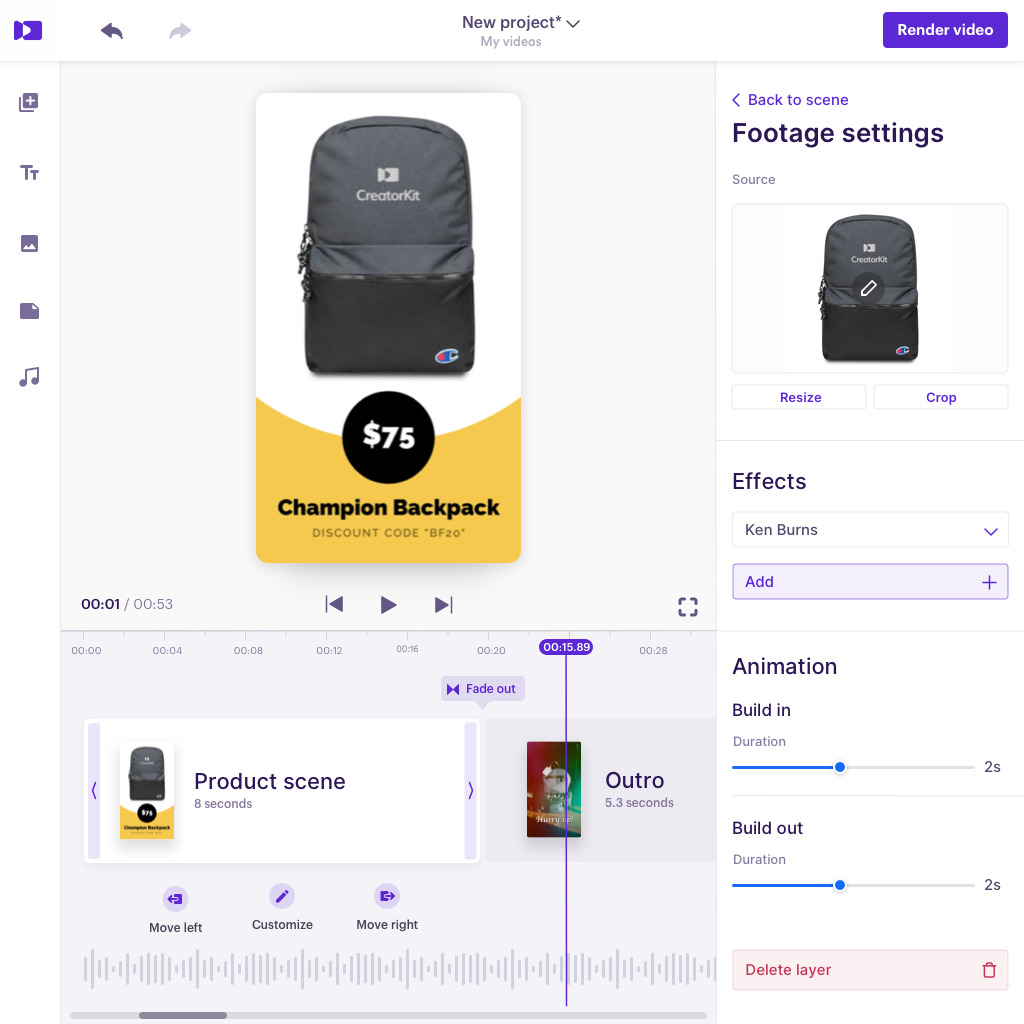 But wait, there's more!
CreatorKit is a lot more than just a tool to add watermarks to videos. Here are a few other features we think you might find useful!
Add images and watermark to videos for free