Add animated text to videos online for free
Add text and captions to any video online for free, no registration needed!
How to add animated text and captions to a video: Step by Step
Whether you are using iPhone, Android or just your Mac to create a Facebook or Instagram ad, post a video on Instagram, TikTok, YouTube, or any other social media platform, adding text to videos in just a few seconds has never been easier!
Choose your video
Upload your video to our free video text editor.
Add text with animations
Add your text or captions and customize the style, font, color and animations!
Export for free
Just export and download your video for free. No registration needed.
Add animated text to
videos on your phone
Easily add animated captions and text to videos on your phone without downloading any app! It works on Android and iOS devices.
Add text to
YouTube videos
Add captions and text in just a few minutes with out free online video text editor tool. Make sure to export your video for YouTube.
Add text to your
Instagram videos
Add text to your Instagram videos and stories to create thumb-stopping posts. Use our proven-to-convert Instagram templates.
Add Text to Video Tool
We built it to make it super simple to add animated text to videos online. These are some of the features.
Animated text styles
Designed to create thumb-stopping ads, videos, and stories that stand out.
100% online
No need to download an app. Designed to be used on any device.
Add text super quickly
Built to add text to videos in minutes. Super fast!
Add captions to videos of any type
Works with MP4, MOV, AVI, WebM and the list goes on!
Secure processing
Your data is protected with industry-standard security measures. We delete videos after processing them.
Designed for social media
Use any of our hundreds of templates that have proven to work for millions of users worldwide.
Tutorial: add text to a video the easy way
We built CreatorKit to solve some of the key pain points that everyone faces when creating video content online. Adding text to video should be easy.
Here's a video on how you can add text to video using CreatorKit:
Why choose CreatorKit?
We started CreatorKit after trying over 100 video editor alternatives. Even though most can be used to add text to videos, only CreatorKit enables you to create truly engaging and high-converting videos and stories.
Animated Text Styles instead of Static Text
Hundreds of High-Converting Templates
Flexible editing with Motion Graphics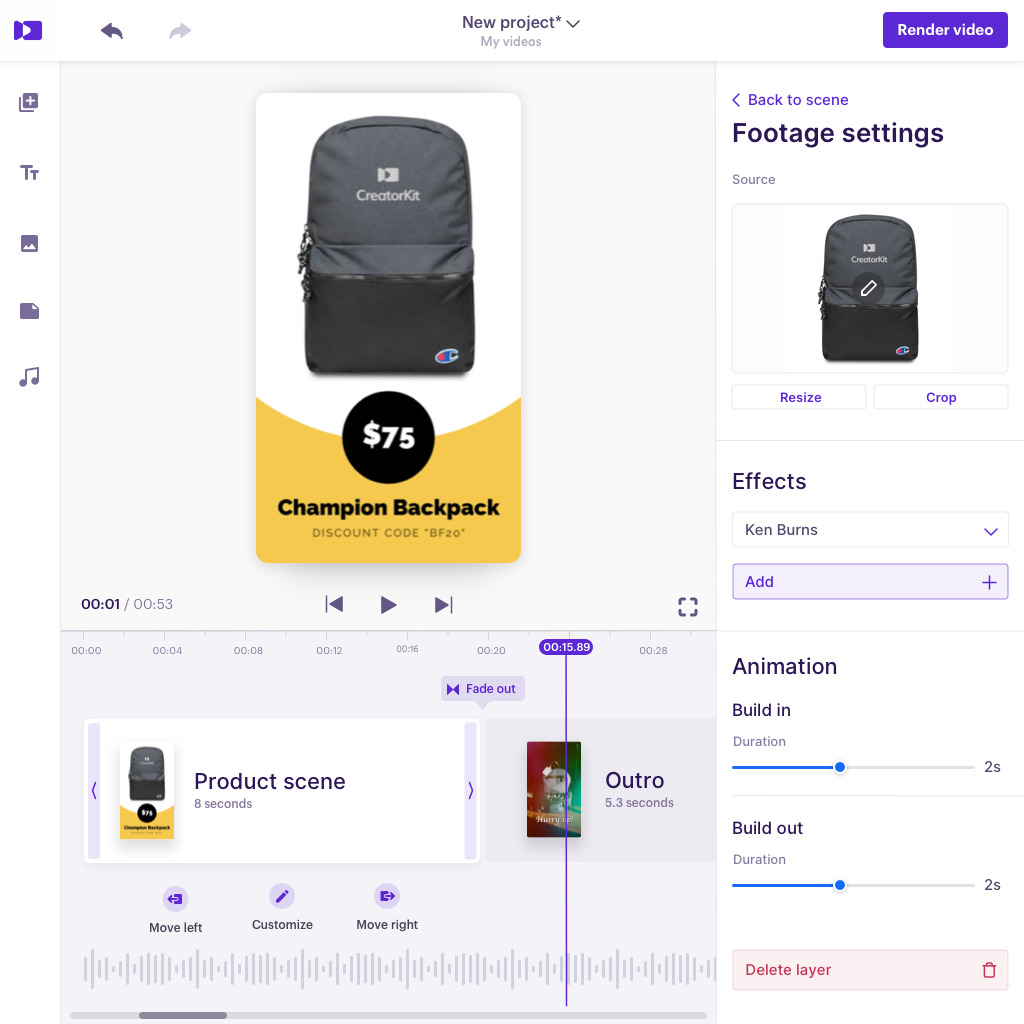 But wait, there's more!
CreatorKit is a lot more than just a tool to add text to videos. Here are a few other features we think you might find useful!
The best tool to add text to videos online